Lawless is book three in the King Series
and is Bear and Thia's raw, and gritty tale!
NOW AVAILABLE
Amazon US: http://amzn.to/1NGbEpb
Amazon UK: http://amzn.to/1SIGSQO
iBooks: http://apple.co/1QcsC1R
Barnes & Noble: http://bit.ly/1HQU3im
Paperback Amazon: http://amzn.to/1YsctJZ
Blurb
Thia is prim and proper.
Bear is leather and lawless.
It will never work between them.
It's a lie they almost believe.

Excerpt
"I'm going to remember this as the worst time in my entire life. The very worst." She shook her head. "There is nothing I can do to change that.  Girls my age are playing sports, going to dances and parties, kissing boys.  And that's never been me.  I've had a full time job at the grove and a part time job at the Stop-N-Shop. I've done nothing over the last few years except work my ass off and watch my family fall apart. Just when I thought it couldn't get any worse…now all this."  She waived around to the house and to me and let out an awkward laugh. She took another hit off the bowl, passing it back to me.  Her coughing much less than it was on her first try.  
"Ti, how old are you?"  I asked, clearing my throat as I ventured into territory I knew I shouldn't.  She was a pistol, even if she was a sad one, but there was a wave of innocence about her that had me both feeling bad for her and salivating for a taste of her.   
This is for her, not you. I told myself.  It was only a partial lie.  
"Seventeen," She said, sniffling.  "Eighteen soon."  
"You ever been kissed?" I asked, her eyes met mine. "And not a peck on the cheek or a brief smack of the lips, but a real fucking kiss? One that leaves you without air in you lungs and your thighs pressing together in search of more?"  I said, my voice coming out deep and strained.  My cock coming alive at the thought of tracing my tongue along her pump lips.  
"Why?" She whispered, and as soon as the words left her mouth I knew there would be no coming back from what I was about to do.  
I pushed off the fire pit and pulled her up off the chair, pressing her tits into my chest and my straining cock against her stomach.  I tipped her chin up and looked into her confused emerald greens. She followed my thumb with her eyes as I traced her bottom lip.  There were too many lines marring her face, questioning what it was I was up to.  I knew she would try to pull away at any second, try to stop me.  But it was too late for that.  
I was beyond stopping.  
Just one taste.
"Answer the question," I pressed.  
"No," she said with a slight shake of her head, and before she could try to argue, I leaned down and pressed my lips to hers.
I was already going to hell.
Might as well enjoy the ride there.  
The finale to Bear and Thia's epic love story.
Pre-order Soulless (Book Two) Lawless Series
Releasing February 23rd!
Amazon US: http://amzn.to/1U0xEAg
Amazon UK: http://amzn.to/1NKiPfZ
About the Author
T.M. (Tracey Marie) Frazier resides in sunny Southwest Florida with her husband and three feisty fur kids.
She attended Florida Gulf Coast University where she specialized in public speaking. After years working in real estate and new home construction, she decided it was finally time to stop pushing her dreams to the back burner and pursue writing seriously.
In the third grade she wrote her very first story about a lost hamster. It earned rave reviews from both her teacher and her parents.
It only took her twenty years to start the next one.
It will not be about hamsters.
Stalk Her: Website, Facebook, Twitter, Amazon, and Goodreads.
GIVEAWAY
Signed Copy of Lawless (2 Winners)
Share link: http://www.rafflecopter.com/rafl/share-code/MDk5NjRmMDM5ZDM4YTBjYWM0YzAyYzM0NGI2ODRhOjc3Mg==/?
THANK YOU!
ELIZABETH'S REVIEW


★ 5 Loving Lawless Stars ★
"I was already going to hell. Might as well enjoy the ride there."

Lawless is the dynamic third installment of the King Series. T.M. Frazier has done it again with her complex characters, twisted plot lines, and broken love stories that will bring you to your knees every time!

"Red stains are the worst, expecially in white grout."
Lawless is Bear's story. When Tyrant ended, Bear was left in a dangerous emotional state. Abused and broken, he decided to escape reality and take a trip down the "self-destruction highway". Booze, women, and every cigarette from every gas station (in every county) in Florida cannot help him forget the pain.

"He mad you a promise. He will help you. He can do the thinking for you. You just have to get there."- Thia
Many years before, Bear had made a promise to a young girl. Now, the little girl is all grown up. When trouble barrels in like a shotgun on her doorstep, she takes off to find solace in the man who promised her help. Little did she know that man is long gone.
"Used, spent, hot, useless. Broken. Why was I there?"
While seeking help from Bear, Thia falls into the hands of the Beach Bastards MC. In order to unleash a holy war against Bear, they take great pleasure in roughing Thia up. Physically abused and emotionally broken both Thia and Bear must find their way together. Through the support of King, Ray, and Grace, Thia and Bear begin the journey to healing.

"He cupped his hands around my face and kissed me like he was screaming at me, punishing me for disobeying him, for being in his life, for not being in his life."

"Bear's lips on mine wasn't just something amazing. It was an event. It was downright magical."
Thia and Bear share a significant connection due to their past experiences and present situation. Where Bear is rough and gritty, Thia is soft and innocent. Bear is a master in the bedroom and Thia is as pure as a Disney Princess. And yet, however sweet and angelic she appears to be, we soon learn Thia is tough. She is a true fighter to her core.

"We were at war, a war of passion and lust, and anger and hate and every feeling I'd had towards the confusing man."
The physical attraction between Bear and Thia is instantaneous and yet, their relationship develops at a slow and steady burn. The anticipation that builds only causes their first connection to ignite right off of the pages of the book. The intensity between the two was dark and yet, so beautiful! Thia and Bear find solace in one another and yet, with the Beach Bastard MC and the law closing in on them it is only a matter of time before their happy existence is blown to pieces.
"I'm not stopping at kissing. I'm not stopping until you're mine in every fucking way. I'll try not to hurt you, but this is happening right fucking now. I'm warning you that I want you so much, my version of gentle still might be really fucking hard."

"I was selfish. I was an asshole. I needed to fuck her more than I needed to breathe."
Told in dual POV, Lawless offers a unique blend of strong characterization, a well developed plot, multiple action packed moments, and raw passion that will leave you breathless. The secondary characters (that we know and love from this series) offer a constant reminder that every broken person has the ability to be healed and loved.
"King was a bull who ran in his own direction and Preppy was the wild donkey, running amongst bulls with no direction at all."
The dialogue drives the action with it's rich text and fluid movement. The action takes you right to the edge of comfort before you free fall into the next emotion. Each moment is felt to the core as Thia and Bear navigate their way through the dark together. In true T.M. fashion, we are left with many questions yet to be answered. I have complete faith in this author to bring Bear and Thia through this transformation with perfection and grace and I, for one, am just thankful to be along for the ride!
"He could rip me in two and I still didn't care because it wasn't what he could do to my body that I was worried about. It was what he could do to my heart."

"Never doubt that this has always belonged to me. YOU have always belonged to me."
Overall, Lawless is simply perfect! I enjoyed every second of this read. Returning to these characters was like coming home and I simply cannot get enough. I highly recommend this read to anyone who enjoys a well developed gritty love story. Bear and Thia's story is one to cherish and remember forever. Bravo, Ms. Frazier! And may I also add….Encore! Please….Encore!
"I love you…."
***King Series***

★ BR with my girls Loyda and War in celebration of Shh… IndieSTAR chat with Frazier, Contreras, Keeland & Hildreth: Dec. 6-12!
https://www.goodreads.com/topic/show/…

★ARC graciously provided in exchange for an honest review via TRSROR for blog tour!★
LOYDA'S REVIEW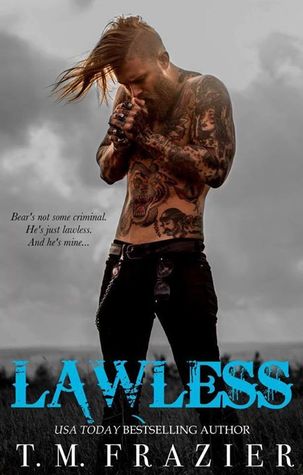 My Rating 
                     

4

★★

Never given up on you Bear Stars

★★

 

 

                
Title: Lawless
Author: T. M. Frazier
Genre: Contemporary Romance
Type: Book 3 of 4 from King series
POV: First Person – Dual
Publication Date: December 8, 2015
"We were two tortured souls…But we found each other. We needed each other." Thia
Lawless is the story of "Bear aka Abel" who we meet in King and Tyrant. Bear had suffered so much growing up and was just out of the MC "hiding" or just staying away from his father who wanted his head. He was living a destructive life with no escape or hope of being saved. When he least expected some mistakes of his past brought him back to the town he never wanted to see again. Back in Florida he finds this stupid girl that he never in his dreams imagine would take his words seriously and his life changes dramatically.

"I missed knowing my place in the world and knowing who I was…driving back into the gates of my hell, I had no fucking idea." Bear
Thia Andrews; at only ten-years old meets Bear during one bad circumstance. Bear gives her something to trick her not to give his trouble MC friend away. Thia takes Bear's gift and believes in his words. Seven years later; at seventeen years old she finds herself in trouble and no one or nowhere to run to. She panic and the only person that came to her mind was the promised of help from Bear. Little did she know that going to him was going to make her life more dangerous than it already was.
After King is able to get Bear back in town to handle the trouble that Thia was in; Bear finds himself not knowing what to do. He just wants her to go away and for him to continue his destructive life. I really felt for Bear for everything he went through. Thia had no family left she lost her brother at a young age and now she had no parents either or any family to go to and in a big hole that she doesn't know how to escape from. Growing up too early she had to learn the hard way to depend on no one but herself with two part time jobs on top of her full time job; she was trying to help out at her home the best she could. I loved how brave she was she didn't hesitate when she had to pull the trigger when trouble faced her. She was a great shooter and that impressed Bear. He had never met anyone like her; so strong and determine but fragile at the same time. Bear saw so much in her and she saw the same emptiness and sadness in Bear. She wanted to help him and he wanted to help her. They were just perfect together.
With a little persuasive she got what she was wanting from Bear he gave in he tried to resist the entire time but at the end he just couldn't; he couldn't helped wanting her.
"I'm not stopping at kissing. I'm not stopping until you're mine in every fucking way." Bear
Bear was bound to do anything for Thia even if that meant making her hate him; he knew that once his father finds her she was dead and he was willing to give himself up to save her. All the events at the end of the book left me breathless and with panic. I had an ache in the chest, my throat was in knots and I just wanted and make it all better but of course I have to read the beginning of the next book and shit why did I do that?? I felt worse than before. Now off to wait for the next book to come because I need answers and revenge. This waiting my just kill me.
 "He was just a boy who had no clue what he was doing and I was just a girl who had no idea what to do with all the feelings I had swarming around inside of me." Thia
★★★BR with my SHHLUTS LIZ and WAR during our ISC chat week.★★★
https://www.goodreads.com/topic/show/…

"ARC kindly provided via TRSOR blog tour, in exchange for an honest review."
Purchase Links:
Amazon US: http://amzn.to/1TSsKW1
Amazon UK: http://amzn.to/1SIGSQO
Paperback US: http://www.amazon.com/Lawless-King-Bo…
This review is also available on
AUTHOR
Website  |  Goodreads  |  Facebook |  Twitter
T.M. Frazier resides in sunny Southwest Florida with her husband and baby girl.
In the third grade she wrote her very first story about a lost hamster. It earned rave reviews from both her teacher and her parents although her spelling could have (and could still) use some help.
It only took her twenty years to start the next book.
The Dark Light of Day was her debut novel.
She LOVES talking books with her readers.