REEVE IS HERE!  
Meet Reeve & Emily in First Touch by Laurelin Paige! This highly anticipated release is NOW LIVE!  
Amazon US: http://amzn.to/1jxIMYq
Amazon UK: http://amzn.to/1InTooo
Barnes & Noble: http://bit.ly/1QcYftH
iBooks: http://apple.co/1QcYmW7
Google Play: http://bit.ly/1lWuKkT
Blurb
When Emily Wayborn goes home to visit her mom while on hiatus from her hit TV show, she receives a voicemail from her former best friend, Amber. Though the two were once notorious party girls, they haven't spoken in years. Although the message might sound benign to anyone else, Amber uses a safe word that Emily recognizes, a word they always used to get out of sticky situations during their wild days. And what's more chilling than the voicemail: it turns out that Amber has gone missing.
Determined to track down her friend, Emily follows a chain of clues that lead her to the enigmatic billionaire Reeve Sallis, a hotelier known for his shady dealings and play boy reputation. Now, in order to find Amber, Emily must seduce Reeve to learn his secrets and discover the whereabouts of her friend. But as she finds herself more entangled with him, she finds she's drawn to Reeve for more than just his connection to Amber, despite her growing fear that he may be the enemy. When she's forced to choose where her loyalty lies, how will she decide between saving Amber and saving her heart?
Excerpt
"Tell me something," he said, overtly switching gears. "What's with you and Chris Blakely?"
He'd been watching me at the Expo, then. Before he'd come outside after me.
His question about Chris was spoken casually, but it was purposeful. A more naïve woman might have missed it, but I was too experienced with men like him. He wanted me to know that I was in his sightline. That this was what it meant to be part of his life. That he would monitor me, if he felt like it; he'd rule me. And he expected me to submit.
I couldn't decide if that freaked me out or thrilled me.
So I played coy. "He's an actor. We've worked together on occasion. I guess we're friends."
I walked into the kitchen and got a glass from the cupboard. Chewing my lip, I filled it with filtered water from the sink and debated full disclosure regarding Chris…It was a long shot, but since I hoped to contact Chris for more information about Missy at some point, I decided the less I said the better.
I drank some of my water then set the glass down and leaned across the counter to watch Reeve. His fingers trailed across the spines. I couldn't see the exact books, so I tried to think what was there. My Katherine Hepburn autobiography. My copy of Rebecca.
He stopped and pulled one from the shelf then flipped through it lazily. This one I recognized from the cover. PostSecret: Extraordinary Confessions from Ordinary Lives, one of my coffee table books. I collected them and had so many that most lived on my bookshelf rather than on my coffee table. This particular book was a printing of blog posts that shared secrets anonymously. Parts of it read like my diary, and I'd marked several pages with Post-it notes so I could easily come back to them. Reading it had always felt comforting.
Seeing it in Reeve's hands, though, wasn't comforting. He flipped through the pages, stopping on the ones I'd tagged. Chuckling at some. Growing somber at others. At one, he lifted his head toward me and nodded slightly as if confirming what he'd just thought, what he'd just read.
I ran through several confessions I knew by heart, trying to imagine which it had been—
"Again and again. Used."
"I'm more scared of court than I was when he almost killed me."
"I would do absolutely anything in the whole world if I thought it would make her happy."
Whichever ones he was reading, any of them—all of them—were private. Too private for him to know spoke to me. Yet, I didn't stop him. I let him sink one layer deeper under my skin.
It was bad enough that he was in my apartment—in an apartment that I paid for myself. His presence reminded me of a time when everything I owned had been given to me by men. The things I had now, though small in number and worth, were all mine.
Trying to distract myself from the anxiety Reeve's invasion caused, I asked, "Why do you want to know about Chris anyway? Do you want me to fix you up? He's got a fiancé, you know."
Reeve shot me a glare. "Cute."
He put the book back on my shelf and moved toward me. When he reached the counter, he said, "Chris doesn't look at you like he has a fiancé."
Ah. I'd forgotten Reeve was a jealous man. Or I'd underestimated the depth of his envy. Strangely, it was a fairly common trait of the kind of men I'd involved myself with in the past, the kind of men who had everything. I knew how to pander to them, knew what to say to put their insecurities to rest. No one could ever be man enough to compare with you, I'd say. It might have been what Reeve was looking for in regards to Chris.
But I couldn't bring myself to give it to him. "A lot of men don't look at me like they have a fiancé."
Reeve leaned across the opposite side of the counter so we were face-to-face. "I don't like that."
Jealousy was generally boring, yet, on Reeve, it was fascinating. And, I suspected, dangerous. "You don't? What are you going to do about it? Lock me up and never let me out in public?"
"I have some nice secluded resorts I think you'd like. My island properties are so beautiful you'll forget you're in a prison."
He flashed his dimple. It was subtle, only noticeable when he smiled in a certain way, the way he was smiling now. And his eyes…I'd thought they were blue, but now I saw green flecks. They caught in the light. They caught me in them, made me feel warm. Made me feel trapped.
I stood up straight, distancing myself without moving away. "Look at you. Acting as if you have some claim to me. I think I already blew you off the other night."
"Look at you, acting as if I'm a person that you blow off. I think I already warned you about me." He was teasing as I'd been. But he wasn't all at the same time.
My heart skipped a beat. "Another threat?"
"If you want it to be." He looked at me like he had earlier—that intent way that saw through me, into me. Saw all my dark parts.
In a way, he was showing me his darkness as well.
My lip quivered, but I wasn't scared. Well, not scared enough. "I do."
His eyes sparked, and with that simple phrase, we entered into an agreement. He would have me. He would fuck me. He would bring me into his world.
And in return I'd let him break me.

Last Kiss (Book Two) A First and Last Novel
Releases June 14th, 2016
Pre-order NOW!
Amazon US: http://amzn.to/1O1imHh
Amazon UK: http://amzn.to/1mqjjlX
iBooks: http://apple.co/1O1iFSD
Nook: http://bit.ly/1kAkMnR
Kobo: http://bit.ly/1kAkRIm
About the Author:
Laurelin Paige is the NY Times, Wall Street Journal, and USA Today Bestselling Author of the Fixed Trilogy. She's a sucker for a good romance and gets giddy anytime there's kissing, much to the embarrassment of her three daughters. Her husband doesn't seem to complain, however. When she isn't reading or writing sexy stories, she's probably singing, watching Game of Thrones and the Walking Dead, or dreaming of Michael Fassbender. She's also a proud member of Mensa International though she doesn't do anything with the organization except use it as material for her bio.
STALK HER:  Website | Facebook | Twitter | Goodreads | Pinterest
GIVEAWAY
$50 Amazon Gift Card
Swag Pack
Share link:  http://www.rafflecopter.com/rafl/share-code/MDk5NjRmMDM5ZDM4YTBjYWM0YzAyYzM0NGI2ODRhOjc3OQ==/?
THANK YOU!
LOYDA'S REVIEW
My Rating 4.5★★★★  Captivating Stars
Title: First Touch
Author: Laurelin Paige
Genre: Romance/Erotica/Suspense
Type: Book 1 of 2 from First and Last Series
POV: First Person – Female
This review is also available on GOODREADS
"But his eyes caught me. There was something I recognized in them- a sorrow or a longing that was both gripping and haunting. I saw myself in those eyes." Emily
Emily Wayborn was wild from early age living the life; a crazy wild life with her best friend Amber. They were best friends and went thru so much together. It has been five years since Emily decided to leave that life behind she learned the hard way due to her actions and her living style with Amber that she wanted something better for herself. She tried to pull Amber away from that life of drugs, man, sugar daddies and low life of submission but she couldn't take Amber; but she wouldn't leave it behind. Emily thought her life was finally looking better having a good carrier in Hollywood even if it's only a voice behind camera that no one knows the face to match it with but she was making a good living for herself until that call. A call from Amber that placed Emily right back to her old life even if she didn't want to be.
"I don't know what it is about you." His voice was strained,…"But I can't get you out of my mind. You contaminate my thoughts."
Emily hired a private investigator to help her search for Amber but every time she thought she was closed to finding her it lead her to noting. Her only clue to finding Amber was a HOT, dangerous, and powerful man; Reeve Sallis. I couldn't help liking Reeves; I kind of had a love hate relationship with him. I liked him but not so much to trust him. Emily ends up trying to seduced Reeve to find information on Amber but gets nowhere instead she ends up falling head over heels over him. Reeve was a very intense male something in Emily intrigued him and he chased her back and wanted her. They both seemed to be made for each other she was a natural submissive as he was a natural Dom and together they were explosive. The intensity of their sexuality was damn hot. I was not so sure about Reeves intentions though; so the entire book I was biting my nails so hard it was a complete roller coaster ride when you think you know something but you fucking don't know a thing. The author twisted things around and at the end lefts us just shocked and hardly having time to breathe.
"I hope you aren't too saddle sore, because I can't have you in those tight pants a second longer. I need you naked. I need your cunt out. I need to be inside you." Reeves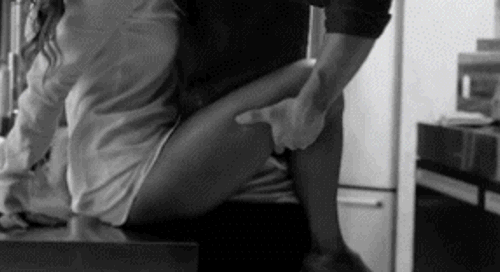 "I didn't want to admit – I'd set out to capture him and instead he'd captured me. I couldn't fight it. It was done." Emily
There was so much hot sexy steamy scenes on this book you do not want to missed; however there are some disturbing things as well that I prefer not to remember or I'll throw up. Overall, I enjoyed this story I was hooked from the beginning I couldn't helped liking both Emily and Reeve but hate both at the same time if that's even possible? Lol.. Maybe it was just some things I didn't feel conformable with and made me want to slap them both haha. If you are looking for a steamy, suspenseful, chilling book you have found it on this book. I honestly can't wait to see the conclusion of this intense read on the next book coming soon on June of this year because let me tell you this book is defiantly a page turner; once you start you will not want to put it down.
"His whispers were unheard whispers. The gasps at the back of my throat were sounds I'd never made. The way my knees buckled, how he pulled me tighter against him, the sighs between us-all new." Emily
Purchase Links:
Amazon US
Amazon UK
Barnes & Noble
iBooks
Google Play