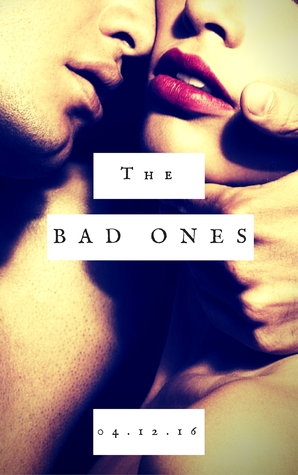 My Rating 5★★★★★ CRAZY~TWISTED~WICKED~ Stars
Title: The Bad Ones
Author: Stylo Fantome
Genre: Dark Romance
Type: Standalone
POV: Third Person – Dual
Expected Publication Date: April 12th, 2016
You may find this review on GOODREADS
"This is the part where you fun away, little girl."
Dulcie Travers; the low class girl who lived in a trailer park loved to take pictures of the world "her world" and then she would draw what she saw through her lenses. Sometimes what she saw was not always flowers and roses but darkness. However; she was the girl at school that slipped around unnoticed; the quiet one, the odd girl. Dulcie liked it that way; no one to bother her or to see everything she could see.
Constantine aka "Con" Masters; the popular star football quarterback always knew he was different but he hide his darkness really good under his mask of popularity. Having his father as the small town mayor helped; and being hot and popular with the girls also helped. Until her…He saw her really saw her but he knew she wasn't ready. Constantine knew though that they were both the same it was just a matter of time.
"Maybe, just maybe, their hidden pieces matched. Con very much wanted to see the real her."
Dulcie accidentally bumps into Con while he was a senior and she was a junior in high school. She really sees him for what he was no one else did thought; it was like a secret that only both of them could see. She knew that she needed to stay far far away from him but something kept pulling her towards him. One night, one magic kiss made her feel so much for him. She couldn't get those deep blue eyes from her thoughts; it hunted her.
"She wanted his darkness to swallow her whole. She wanted to be a part of it. She wanted to give her own darkness back to him."
Constantine was one year older than her; he left the town after graduation and did not return after three years. Dulcie moved on; graduated and was so upset at Cons that he never came back for her; she thought for some reason that the feelings were mutual.
After three long years Con finally returns to town; so much happened while he was gone. Dulcie had moved away from her trailer park and on her own and even was dating. Con had plans for the both of them thought and that was why he stayed away for so long. He waited; he planed; he prepared. Con is now determined to win Dulcie back he knows she is upset with him but he also knows that what they have is unbreakable and he will have to show her and earn her trust. Would their love destroyed each other or would it conquer anything and everything?!
I literally devour this book in one setting; it was a total page turner. All the events that occurred when Con and Dulcie gave into each other will leave you double guessing everything you think you ever know about them. This book it's an absolutely complete twisted ride full of surprises and craziness. It has a lot of dark elements which I personally did not mind but if you have hard limits I will recommend reading the blurb before picking this book up. I loved everything about this book and I cannot wait for everyone to read this book. To all my dark readers this book is for you and make sure to read the warning: this book contains graphic sex, extremely brutal violence, bad language, and people repeatedly and knowingly breaking the law.
Book Order: Standalone


"I WAS LUCKY AND FORTUNATE TO WON AN EARLY EARLY ARC COPY ON FB GIVEAWAY ON STYLO'S BIRTHDAY, THANK YOU SO MUCH!"

BLURB:
Love isn't always bright and shiny.
Sometimes, it's dirty and wrong, buried six feet deep in a secret place where only wild things dare to go. Hidden behind a big black curtain that covers things no one should ever see.
Sometimes it happens between two people who should never be allowed to come together. One who is a match, and the other who just happens to be gasoline.
One strike is all it takes to burn the whole world down, and that's exactly what they plan on doing.
Even if it kills them.
warning: this is a "dark romance" – this book contains graphic sex, extremely brutal violence, bad language, and people repeatedly and knowingly breaking the law.
AUTHOR
Crazy woman living in an undisclosed location in Alaska (where the need for a creative mind is a necessity!), I have been writing since … forever? Yeah, that sounds about right. I have been told that I remind people of Lucille Ball – I also see shades of Jennifer Saunders, and Denis Leary. So basically, I laugh a lot, I'm clumsy a lot, and I say the F-word A LOT.
I like dogs more than I like most people, and I don't trust anyone who doesn't drink. No, I do not live in an igloo, and no, the sun does not set for six months out of the year, there's your Alaska lesson for the day. I have mermaid hair – both a curse and a blessing – and most of the time I talk so fast, even I can't understand me.
Yeah. I think that about sums me up.
WEBSITE FACEBOOK TWITTER GOODREADS