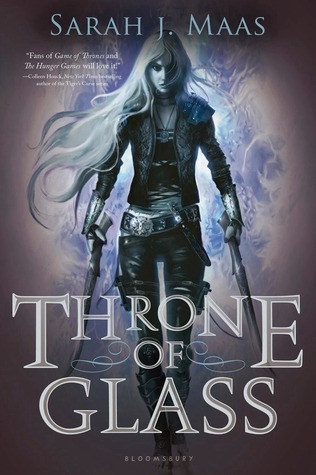 4.5 ★★★★stars
Genre: YA Fantasy
Type: Book 1 of Throne of Glass Series
POV: Third Person
This review can also be found on GOODREADS.
"I will not be afraid"
Celaena Sardothien is a young female assassins who is a total badass. I loved her since the short novellas and really fell for her character. It has been a year since she was betrayed and lost a very special person. One year of being held captive thinking she was done for but she never stopped trying to escape.
Prince Dorian Havilliard is also young, handsome and he has come to Celaena to set her free. However; her freedom is not free she'll have to earn it. They developed a great relationship and the way they both reacted towards each other was so enjoyable.
"It made her uneasy how he'd made her blush. In fact, he was so attractive that she had difficulty not thinking about how attractive he was."
We also meet Chaol Westfall he is responsible to train and make sure Celaena is watched for. He doesn't do feelings well and he has a hard-ass attitude but behind all he finds himself caring for this young assassin.
This book is packed with action, suspense and there's a bit of a love romance as well that I cannot wait to keep reading about. I laughed and grin so much, because Celaena has this great attitude well more like a she don't care who you are attitude and she flirts and mess around with the prince and she even makes Chaol uncomfortable which is hilarious.
"Didn't I give you three pounds of candy?" She smiled impishly. "You ate half the bag!" "Was I supposed to save it?" "I would have liked some!" "You never told me that." "Because I didn't expect you to consume all of it before breakfast!"
I also loved that her need for good and justice was stronger that she would do whatever it takes to continue the role she has been given to protect the good people. A new journey and adventure is awaiting and I'm so excited that there are more books in the series.
"Freedom or death lay at this table. Her past and future were seated on a glass throne."